Wasp & Hornet Nest Removal Reading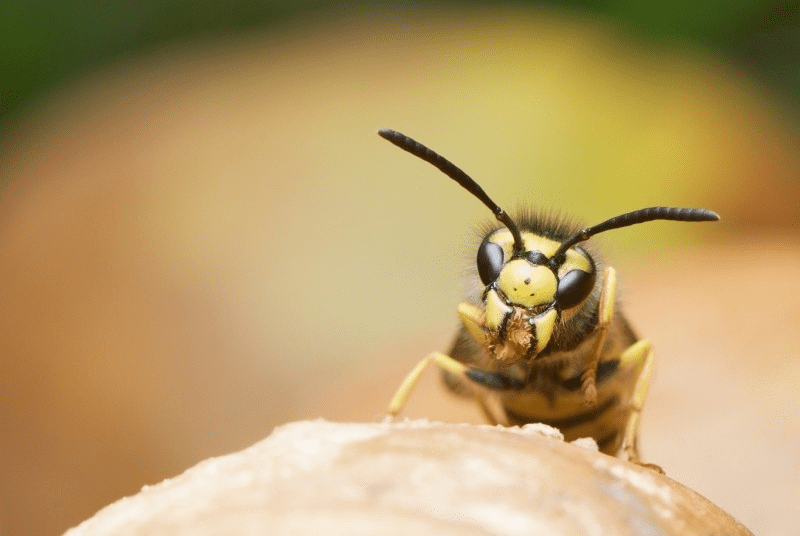 We also service Thatcham, Tadley and Hungerford
Please call us on 01635 250 852 for immediate assistance
Wasps & Hornets are common place with many wasp nests removed in Newbury, Thatcham, Hungerford and throughout the surrounding area each summer. Wasps are a nuisance due to their desire to build nests close to human habitation. It is primarily the Common and German wasps that are more troublesome with their apparent aggressive behaviour and painful sting. Disconcertingly, at night they can be heard chewing roof timbers if in proximity to sleeping areas.
Hornets are less problematic and typically only become aggressive when trapped – this tends to be at night as they are attracted to light. It is generally their size and audible presence that cause more alarm although should you be unfortunate enough to suffer a sting the effect is extremely painful.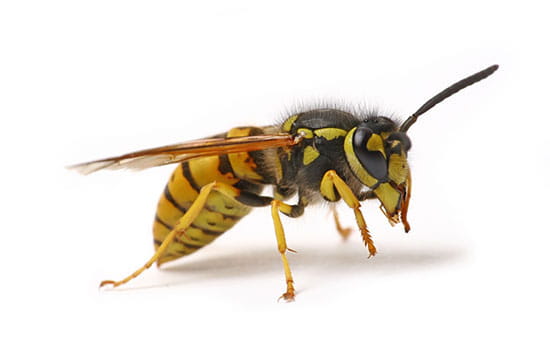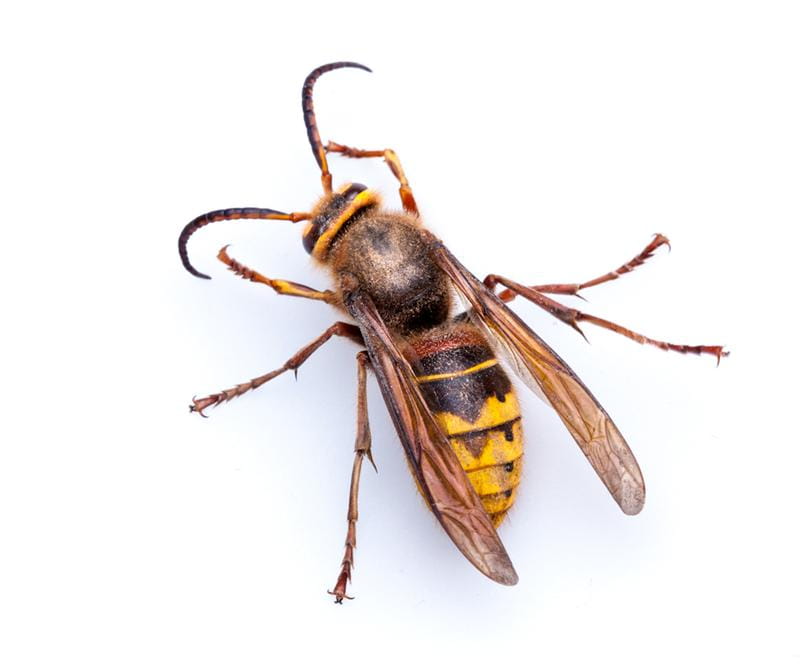 Spotting the difference between wasps and hornets. The common wasp on the left (above) with the (larger) hornet on the right.
Fundamentally terminating a wasp or hornets' nest is not complicated due to the single treatment capabilities professional insecticides offer. Far harder is gaining satisfactory access to the nest to apply wet or dry powder insecticides. A number of consumer products are available for the DIY control of nests. We suggest strong caution if you wish to use these products for two reasons.
1 - Domestic DIY products contain pyrethrins/pyrethoids in lower concentrations which may not be fatal. This has the ability cause hyper-active response and create the opposite to the desired goal. Professional insecticides do not do this.
2 - When applying insecticides to a nest Wasps and Hornets may respond in significant numbers extremely aggravated. Even with the correct equipment multiple stings may occur. The safety considerations of this are self evident when 40ft up a ladder. A developed wasp nest may contain up to 5,000 wasps.
We have dealt with the aftermath of many failed DIY attempts that have included the use of highly flammable liquids, boiling water, glue, vanish, expanding foam and more. Save yourself your health and your time. DIY wasp control generally causes more problems than it resolves.
Effective Wasp & Hornet Nest Control
We will terminate any Wasp or Hornets Nest on the same day of your call
We have a target response time of one hour at no premium
We are the most competitive wasp & hornet pest controllers in Newbury, Thatcham Hungerford & surrounding area
We always survey for further nests when at site to avoid you paying further call out charges.
Additional nest termination is charged at 25% of normal price
We will be tidy, efficient and courteous and answer any questions you may have
We are a local family business established for nearly 25 years with great local knowledge
We will show you why domestic wasp killer when used is likely to make the problem worse
We only use professional equipment and insecticides designed for use in human environments
We are professionally trained at working at heights with ladders
We will always provide you with a Safety Data Sheet of the insecticides used on your premises
Fees - Wasp & Hornet Nest Removal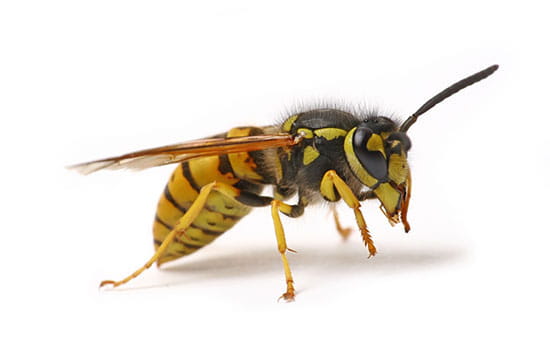 Of course we'll advise against DIY treatments. We believe the marginal cost difference and benefits of using us far outweigh the risks. To ensure that cost does not force unnecessary risk taking our fee reflects the best value for money. We are the most competitive pest controllers in Newbury, Thatcham, Hungerford & the surrounding area.
When a Wasp or Hornets nest is terminated or removed by ourselves we will undertake a risk and hazards assessment on the nest and the use of any treatment we may undertake. For example insecticide dusts should not be used near aquatic life.
Termination of a nest will be completed with a Bendiocarb dust or liquid which is highly effective and rapid in its effect. Whilst an active response will be noted immediately after treatment the nest will be dormant within 24 hrs. All clients are provided with a safety data sheet on the insecticide used.
Please call us on 01635 250 852 for immediate assistance
Have you ever noticed that wasps have the uncanny ability to show up just when you don't want them to? It's all about food, according to the experts. We will explain how it all works in this post. In the meantime, we invite you to call us for wasp nest removal in Reading or anywhere else in the Control Services coverage area.
We have been providing effective wasp nest removal to residents in Reading, Andover, Didcot, and many other areas for years. We are specialists more than capable of safely removing a nest from your property. With that said, let's get to the science behind how and why wasps tend to congregate.
Wasps Are Great Gatherers
Aside from building and maintaining nests, the next most common reason wasps congregate in large numbers is to gather food. And as the experts explain, they are very good at doing so. Scientists have recently discovered that a unique behaviour once thought to be a sign of hunger is actually a way for wasps to communicate the availability of food and the quality of that food.
A team of researchers from LaGuardia Community College in New York say they have discovered how wasps communicate about food using their own stomachs. Apparently, the insects beat their stomachs, similar to beating a drum, to communicate that food has been found. The researchers also claim that wasps use different drumming patterns to indicate food volume and quality.
This suggests that one wasp coming upon a good source of food will alert others to follow. Perhaps that's why wasps always seem to show up at a picnic, according to the Daily Mail. That certainly would explain how you could be enjoying a wasp-free environment until you pull a piece of fruit out of your bag, at which time there seem to be wasps all over the place.
Be Cautious Around Wasps
Unlike honeybees, insects that are largely harmless to humans, wasps can be aggressive and potentially dangerous. We always urge caution around them. As wasp control experts, we also recommend against trying to remove a wasp's nest by yourself. Stay away from over-the-counter pesticides as well. They can anger wasps without being very effective at eliminating them.
As a specialist in wasps and general pest control in Reading, we will deal with the pest problem effectively, efficiently and professionally. Please do not hesitate to contact us for wasp nest removal on your premises. We will dispatch an expert technician to handle the problem right away.
Please note that we have the tools and training to safely remove a wasp's nest and immediately destroy it. We do so in ways that are friendly to both your property and the environment in general. If you are having a problem with bees, please contact us for that as well. We do our best to move bee hives to a safe location rather than destroying them. We wouldn't want you to harm a delicate hive by trying to handle it on your own.
Sources:
Daily Mail – http://www.dailymail.co.uk/sciencetech/article-5736805/Wasps-bang-tummies-alert-food.html
Please call us on 01635 250 852 for immediate assistance