Grey Squirrels Removal
Grey Squirrels are rodents with similar physiological characteristics to rats. They are not native to the UK and have since introduction severely unbalanced the ecosystem. Grey squirrels are aggressive, destructive and successful breeders. Consequently their control is required despite their attractive appearance.
Grey squirrel control can be achieved in a number of different ways – different seasons dictate the most effective approaches. Poisoning may be used in specific situations. However, our experience allows us to use more traditional methods such as trapping or poking.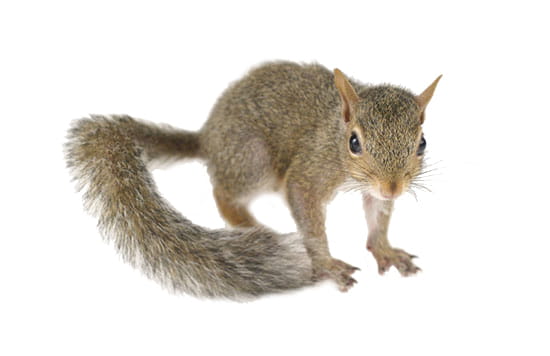 Grey Squirrels have a broad palate and will eat nuts, fruit buds, birds eggs and nestlings in addition to food put out on bird tables. Breeding typically occurs twice a year with an average litter of three per gestation. Squirrels reach maturity as early as 7 months and can live for 8-9 years although 2-3 is more typical.
Grey Squirrels will access properties and roof spaces. Their damage is costly where timber and ceiling board will be chewed, insulation stripped from wires and fibreglass used to form a nest call a drey. Squirrels have been known to drown in cold water tanks.
Damage extends to bark stripping of tress – particularly Beech and Sycamore, removal of farmed fruit and damage to young shoots of plants. The financial implications of squirrel damage to both residential and commercial property is significant notwithstanding the disruption of the natural ecosystem.
Please feel free to contact us without obligation if you wish to discuss the proactive management of grey squirrels within your property – 01635 250 852. Properties with greater amounts of land may wish to undertake a managed pest control program in conjunction with neighbours to be fully effective.
Grey Squirrel Control
We have broad experience of squirrel management over the last 25 years
We have a target response time of one hour and will deal with squirrels in loft spaces as a priority
We are highly professional although competitive – please see our testimonials
We can provide ongoing management programmes for large properties
We are certified to use restricted products for Grey Squirrel management if necessary
We rely on our reputation – we work with this in mind continually
We are CRB cleared and undertake work in restricted environments
Please contact us without obligation to discuss squirrel control in Newbury, Thatcham, Hungerford or throughout the Berkshire and Thames Valley area – 01635 250 852